Just when things looked bleak for the hunger striking students at Washington University in St. Louis in flies Peter Yarrow (pictured on right) of "Puff the Magic Dragon" fame from the 60's folk group "Peter, Paul, and Mary" . Nothing like having a 1960's folk singer join your cause:
Joining the students at midday was a familiar face from the era of civil rights and anti-Vietnam war protests. Peter Yarrow of the famed Peter, Paul and Mary trio came to offer his support.
Advertisement - story continues below
Yarrow told FOX 2 News, "These kids…all they want is a fair shake for underpaid workers who don't have benefits. The fact they're doing this is reminiscent of all of what we did. I'm here to say 'well done', 'I've been there', 'carry on'."
The students involved face charges under the university's judicial code, and with only two weeks left of classes, some could lose credit for the semester. The university issued a statement Tuesday saying the administration is open to ongoing dialogue. But students tell us they have not had any meetings with chancellor Wrighton. The university's director of student health is checking on the students participating in the hunger strike each day to assess their conditions.
TRENDING: BREAKING: Joe Biden Chooses Kamala Harris as VP Nominee - Who Accused Him of Racism
AFL-CIO is also supporting the protesters:
On Tuesday, an AFL-CIO official visited the St. Louis campus to let students know they had the support of the 13-million-member organization.
Advertisement - story continues below
"We are fully, incredibly supportive and grateful for what the students are doing," said Stewart Acuff, organizing director for the Washington-based federation of labor unions. "More and more workers are working for lower wages and struggling to make ends meet."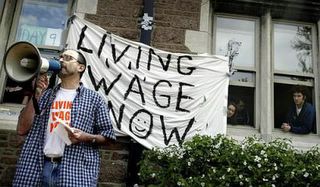 A Very Proud Professor Brick (AP)
Washington University professor of history, Howard Brick, voices his support for the sit-in as students watch from the window of the admissions office where they are continuing with their protest to seek higher wages, for contract workers at the school, Tuesday, April 12, 2005, in St. Louis. (AP/Post Dispatch)
The student leader of the protest, Danielle Christmas, says about the wages:
"This is institutionalized classism and racism," she said, adding that most of those paid the low wages were Latinos, blacks and refugees.
Advertisement - story continues below
The students have set up tents to sleep in during the protest and many have not bathed in days, now.
The university has made concessions and not all students are for the protest:
The administration offered to contribute $500,000 more toward workers' wages, starting in July. The university also offered to meet with service contractors to discuss improvements, including health care.
Sam Gaynor, 19, of Boston, said: "A lot of students don't support what is happening. The university is not a charity case. It is paying above the fair market rate. This is damaging the image of the institution."
Advertisement - story continues below
But yesterday, Peter Yarrow joined the protest.
Old 60's hippies never die, they just find a new protest!
Update: (3:00 PM) I am going to stop by the campus after work today. I may have an old can of "Jalapeno Vienna Sausages" in my car to lure them to the window, if I have to, so that I can get a couple of protest pictures. Depending on how things go, I will try to post them later.
Update 2: Do you think it would be mean to bring some 'french fries' or 'popcorn' with me when I go?