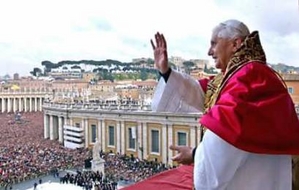 Cardinal Ratzinger becomes Pope Benedict XVI
Well, I am sure that I butchered that German… But, some wonderful news today from the Vatican as Pope Benedict XVI was chosen after just two days of the Papal conclave. And, low and behold, the MSM is already making him out to be divisive:
Ratzinger, the strict defender of Catholic orthodoxy for the past 23 years, was elected Pope on Tuesday despite a widespread assumption he was too old and divisive to win election.
Advertisement - story continues below
And, how they found this guy already is just unbelievable:
Liberation theologist Leonardo Boff said that the new pope, Cardinal Joseph Ratzinger, will have a hard time making friends in Latin America.
TRENDING: BREAKING: Joe Biden and Barack Obama's Twitter Accounts HACKED... Along With Jeff Bezos, Bill Gates, Kanye West and MORE
Funny he says that, since South America and Africa have seen the largest growth in the Catholic Church.
Oh, evidently this ex-priest is someone the MSM can relate to. Here is a bit of his story:
Advertisement - story continues below
Leonardo Boff has been preaching an activist gospel in Brazil for decades. Although no longer a priest, Boff is still a theologian and an active member of a Christian community in Brazil. He was more or less forced out nearly four years ago after a battle with the Vatican over his penchant for mixing politics with religion.
Boff says the Catholic Church is becoming increasingly irrelevant to the poor. The people he works with now are committed to building a better world not because they are Christians but because they are profoundly human.
The ex-cleric is especially attuned to the ecological costs of industrial development.
Yech…enough about him.
I especially liked this story from FOX News about Pope Benedict's early years:
Advertisement - story continues below
Like his predecessor, John Paul II, Ratzinger — now Pope Benedict XVI — was marked by the terror-filled years of World War II. John Paul, then known as Karol Wojtyla, was forced to work in a quarry and narrowly escaped arrest in a mass roundup of young men by the Germans in Krakow; Ratzinger's experiences also were harrowing.
In particular, his decision — in late April or early May, just after he turned military age — to leave his army unit could have cost Ratzinger his life.
At the time, he knew that the dreaded SS units would shoot a deserter on the spot — or hang him from a lamppost as a warning to others. He recorded his terror when he was stopped by other soldiers.
"Thank God they were ones who had had enough of war and did not want to become murderers," he wrote in his book, "Aus meinem Leben," published in English as "Milestones: Memoirs 1927-1977."
Advertisement - story continues below
"They had to find a reason to let me go. I had my arm in a sling because of an injury."
"Comrade, you are wounded," they told him. "Go on." Soon he was home with his father, Josef, and his mother, Maria.
For years, he and his family had watched the Nazis strengthen their grip on Germany. His father, a policeman and a convinced anti-Nazi, moved the family at least once after clashing with local followers of the party. A local teacher, he remembered, became an ardent follower of the new movement, and tried to institute a pagan May pole ritual as more fitting of Germanic ways than the traditional, conservative Catholicism…
A great read. God bless Pope Benedict XVI… some magnificent shoes to fill!
Advertisement - story continues below
Update: (6:00 PM) Polipundit has an article from Agence France Press about Pope Benedict's role in John F. Kerry's loss in the 2004 election.
Update 2: (7:00 PM) I knew German blogger Davids Medienkritik would have the reaction from Germany and I was right.