In 1993, huge demonstrations followed a 'rigged' election. These were eventually put down by the military as hundreds died. The current election cycle has seen its share of violence including six deaths at an Opposition Rally over the weekend. So, will Togo pass the democracy test this presidential election cycle? Will the Opposition claim victory? Or, will Togo end up with the son of the dictator who ruled Togo with an iron fist for 38 years?
Six protesters were killed at an Opposition Presidential Rally in Togo over the weekend.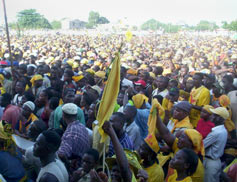 Presidential Rally in Togo
At least six people were killed and dozens were injured in weekend clashes between government and opposition supporters in Lome, the capital of Togo, as tension mounted ahead of presidential elections that will usher in a new era after four decades of rule by the late Gnassingbe Eyadema.
Advertisement - story continues below
Hospital officials told IRIN that six people died and 35 were hurt in fighting that erupted after exiled opposition leader Gilchrist Olympio returned home briefly to address a huge rally in Lome on Saturday.
Four of those treated in hospital were suffering from bullet wounds, they added.
TRENDING: Mayor Lori Lightfoot Lashes Out at President Trump -- Says National Guard Not Needed After Looters Ransack Downtown Chicago, Attack Police for 5 Straight Hours (VIDEO)
Both sides blamed each other for the violence, but eyewitness and human rights groups said the thugs most visible in the streets appeared to be armed militants of Eyadema's ruling Rally of the Togolese People (RPT).

Presidental Election is Sunday, April 24th.
Advertisement - story continues below
On Friday, police dispersed crowds of protesters wanting voter registration cards with tear gas and grenades:
In Lome, eyewitnesses said police used tear gas and fragmentation grenades to try and disperse several thousand opposition protestors who marched on the town hall to demand voting cards so they could take part in a landmark presidential election due on 24 April.
Voter registration was due to have ended on Tuesday, but the government, which faces opposition charges that it is planning to rig the election, has pledged to make voting cards available up to the last minute so that nobody will be left out.

Faure Gnassingbe, Son and Heir Apparent
The Opposition is united against the heir apparent and son of the late president Gnassingbe Eyadema.
Advertisement - story continues below
The six main opposition parties have united behind a single candidate to challenge the son and heir apparent of the late president Gnassingbe Eyadema. He died in February after ruling this small West African country with an iron hand for 38 years. The formerly fragmented opposition is demanding a new era of freedom and change.
The election is likely to be straight fight between Faure Gnassingbe, the 39-year-old son of Eyadema, and Emmanuel Bob-Akitani, the candidate of the opposition alliance. Two other minor candidates are only expected to attract a handful of votes.
However, the opposition parties have accused the authorities of withholding voting cards in opposition bastions and of playing havoc with the electoral roll ahead of the hastily arranged presidential election…
So, will Togo usher in Africa's comminment to democracy or will it end up with another African dictator?
Advertisement - story continues below
Togo, a tiny country of just five million people, is becoming a test case of Africa's commitment to democracy.
Continental heavyweights Nigeria and South Africa have both condemned the constitutional changes which saw Faure Gnassingbe inherit the presidency following his father's death.
Both the African Union and the West African regional body, Ecowas, are threatening to impose sanctions – which would be an unprecedented step on a continent where leaders generally feel strong solidarity.