Hostage Market Arrest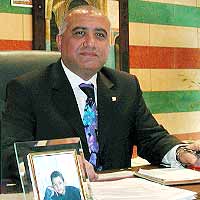 Romanian-Syrian Businessman Omar Hayssam
Authorities have arrested a Romanian-Syrian businessman in connection with the capture of three Romanian journalists:
Romanian authorities have arrested a Romanian-Syrian businessman in connection with the kidnapping of three Romanian reporters in Iraq eight days ago.
It was not immediately clear if he would face charges or how he was connected to the March 28 abduction of the three journalists, who official sources said were still alive.
"Romanian citizen Omar Hayssam was detained," presidency spokeswoman Adriana Saftoiu told reporters on Tuesday. "Other related actions are under way in Bucharest and Baghdad. Any other information at this time would risk efforts to rescue the kidnapped journalists."
So, will the Romanians cave?
Romanian Senate speaker Nicolae Vacaroiu told reporters after a meeting with the Iraqi ambassador in Bucharest, Adel Murad, that the abductors were most likely after money.
"I am optimistic because as I understand from the ambassador there seems to be a known group with material, not political, interests behind the abduction," Vacaroiu was quoted as saying by the state Rompres news agency.
Grateful to Washington for its support in shedding communism, Romania is a staunch U.S. ally with 800 troops in Iraq. But about 55 percent of Romanians want the troops to come home.
The Jawa Report has a great roundup on this story.
Reports from "Perform Your Magic" blogger in Romania are that the journalists are free and under US and UK protection.