** "They're gonna kill us in the night," they said of the government. "Please do something, please help us." **
Update: (6:20 PM) The AP has caught up to this story tonight. The report by Bryan Mealer gives a good roundup of the situation. The bottom line is that the people are very scared and the situation is very tense. Here is the most chilling part of the article, from opposition demonstrators at the stadium today…
On Friday, Akitani appeared to thundering applause before about 10,000 supporters at Lome's Omnisport Stadium to close his official campaign. The crowd — wearing opposition yellow and waving palm leaves, the symbol of the party — shouted to foreign reporters gathered behind a steel fence.
Advertisement - story continues below
"They're gonna kill us in the night," they said of the government. "Please do something, please help us."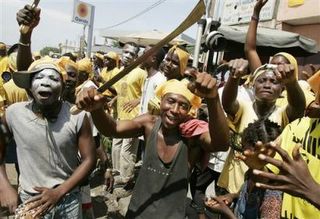 10,000 at Opposition Rally In Togo Capital Today
TRENDING: Dallas Soccer Star Reggie Cannon Calls Fans "Disgusting" for Booing and Chanting "USA!" as Players Knelt for National Anthem
I wrote earlier this week about the upcoming election in Togo this Sunday. The country has planned a presidential election after the death of long time ruler (dictator) Gnassingbe Eyadema. His 39 year old son, Faure Gnassingbe, wants to take over where his father left off. His first big test is to win the elections this Sunday.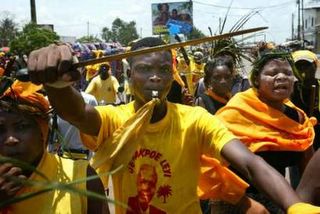 Opposition Demonstrators carried machetes, sticks and the party's symbolic palm leaves.
Advertisement - story continues below
The Opposition is united to defeat the heir apparent son of the late dictator of 38 years. Emmanuel Bob-Akitani is the candidate of the opposition alliance.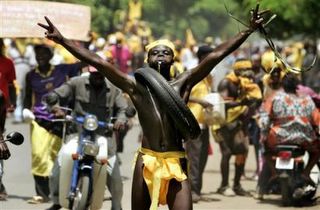 Opposition Demonstrators took to the streets of capital, Lome.
There has already been great violence in the tiny West African country in the run-up to the election. Six people were killed at an Opposition Rally last weekend and many more were injured as armed militants opened fire on the demonstration.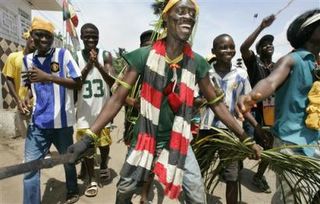 A government minister was released of his duties today after he warned that elections at this time may cause violence.
Today the Interior Minister warned the government to delay the elections. He said with mounting tensions it would be "suicide" to have the elections at this time.
Advertisement - story continues below
The interior minister of the West African nation of Togo appealed to the country's interim leader on Friday to postpone Sunday's presidential election because of mounting tensions, saying the poll would be "suicide."
He was dismissed from his post later in the day.
And… the government stated that Sunday's elections will proceed as planned.