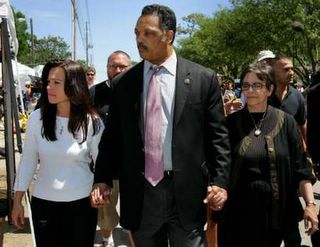 Not exactly your average conservative.
THe MSM, via the LA Times, came out today with an article titled, "Culture of Life- Issues split GOP". No accident here as the MSM is wanting Ameicans to see the Terri Shiavo story as a Republican defeat and a shameful political stunt. So, today when Jesse Jackson went to the support of the Shiavos it blew the whole agenda for the democrats. When Ralph Nader spoke out against the Shiavo court rulings the MSM managed to look the other way, but it is not that easy to do when the man in the spotlight is Jesse. Thankfully the "Rev." Barry Lynn leader of the liberal Americans United For Separation of Church and State had this to say last week:
Religious Right leaders are determined to run all of our lives, from the moment of conception through the end of life, and top congressional leaders are conspiring behind closed doors in Washington to help them do it. It's appalling," said the Rev. Barry Lynn, head of the liberal group.
THE REV. BARRY LYNN: Thank you very much, Dr. Gaddy and all who are listening to this. In the tape Americans United obtained from the Family Research Council conference a week ago, it is made crystal clear from the mouths of both Senator Bill Frist and Congressman Tom DeLay that there is a hand-in-glove relationship between the leaders of the Religious Right and the leadership of the Republican Party. Getting Congress involved in Mrs. Shiavo's case was the rawest and most unconscionable exercise of political power I have ever from the Religious Right. It was a deliberate, wanton effort to get Congress to ignore the rule of law and the individual liberties guaranteed by the Constitution.
The backlash to this, though, has apparently been great and dramatic. In one poll released less than 24 hours ago, 82% of Americans disapproved of Congressional involvement. In a futile effort at so-called spin control the Right is now arguing that the Republican leadership had been 'courageous' in bringing up this matter. But frankly, in my view, if Bill Frist and Tom DeLay had indeed been psychic and seen these polls in advance, they would have been on anything, including a fact-finding mission to Mars last weekend instead of calling their colleagues back to Washington. Religious Right involvement in this case has been a loud moral and ethical wake-up call to moderate Americans, whether those Americans are religious and non-religious.
Do you believe this guy? He says he is a 'reverand' but I have certainly never heard him say anything that was remotely pro-faith. It is just hard to get this guy!
Breaking… (1:00 AM- up late) A Federal Appeals Court OKs Schiavo Review.