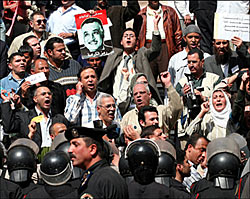 Protesting Outside of Parliament
Aljazzeera is reporting of major demonstrations in Egypt today:
Thousands of protesters have staged a series of pro-reform demonstrations across Egypt in defiance of the government's warning.
Protesters demonstrated in Cairo, Alexandria and at a Nile Delta university on Wednesday, but large numbers of police officers stopped the participants from reaching the parliament, their main target.
About 400 protesters, including members of the Muslim Brotherhood, walked about 1.5km across Cairo from the police cordon at parliament to the Press Syndicate, where they chanted slogans against President Husni Mubarak on the building's steps
Evidently, Cairo is not the only city to see protesters today:
Demonstrators have taken to the streets of several Egyptian cities to protest against the prospect of a fifth term in office for President Hosni Mubarak…
… A similar demonstration in Alexandria was called off after security forces sealed off all routes to the site.
20 people were detained in Alexandria and another two were held at a rally in the Nile Delta town of Mansoura. There were no arrests reported in Cairo.
Marchers in Mansoura claimed to have been set upon by pro-Mubarak thugs, although this has not been confirmed by police.
Reuters is reporting that the authorities are feeling threatened:
"They (the authorities) are threatened … They think the situation is escalating," said a Cairo member of Kefaya, who asked not to be named.
This explains why Egypt officials cracked down on the largest opposition party over the weekend.
I am sure that Big Pharoah will have an update later.
Blogger Kafie at Enough! has more pictures from the protest.