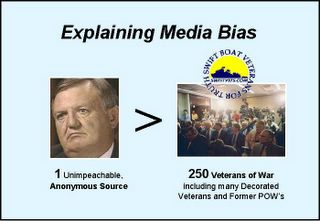 What the Study Doesn't Tell You
Bush Three Times more Likely to Get Bad Press During Election
A study at Columbia University Graduate School of Journalism said that 36 percent of stories about Bush were negative compared to 12 percent about Kerry, a Massachusetts senator. This was really no surprise for those who watched the war time president get tarred and feathered by the press this last year. But, that is just half of the picture regarding media bias.
What is not told in this recent study is how the mainstream media selects the "news" that is to be reported in the first place. A good example of this was the Swift Boat Veterans in 2004. Here was a group of over 200 military veterans. Many of them had earned distinguished awards while serving their country. So when they came out with accusations against John Kerry you would think that this would be news. It wasn't. The news of this was not released until months later after their ads had already started to do damage to the Kerry Campaign and the media had to explain.
(Powerline has more about this today in the John O'Neill interview they have posted.)
Compare that story with the "Unimpeachable, Anonymous" source that Dan Rather used in his epic 60 Minutes II segment. Here was a man with a history of mental illness and accusations against the current president. The bitterness dated back to the Bush governorship when the man was having problems with his benefits. CBS overlooked this. They chose to run with these documents from the still mysterious "Lucy Hernandez".
The Columbia Study does a fair job at defining the "bias in the news" but it does not start to address the "bias in choosing" the news.