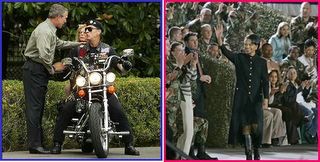 Nancy Sinatra and Condoleezza Rice in Boots… Coincidence?
Last Memorial Day, "Rolling Thunder" President Artie Muller, Nancy Sinatra and other representatives of the "Bikers for Bush" gang rumbled to the White House to pledge their support for President Bush. Yesterday, Secretary of State Condoleezza Rice let the Europeans know that she has a "Mind for Diplomacy and a Body for Boots" :
As Rice walked out to greet the troops, the coat blew open in a rather swashbuckling way to reveal the top of a pair of knee-high boots. The boots had a high, slender heel that is not particularly practical. But it is a popular silhouette because it tends to elongate and flatter the leg. In short, the boots are sexy.
Advertisement - story continues below
So, is this the new look of the Conservative Woman? Or, was this just a confident statement to German President Shroeder and French President Chirac that after the success of the Iraqi Elections, the Ukraine Revolution, and the stirrings in Lebanon, history is Gonna Walk All Over You?