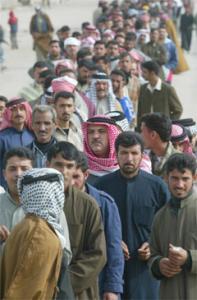 Today, there's no voice louder than that of freedom.

 
Iraq the Model began their journey after the liberation of Iraq in 2003. Today Mohammed and Omar share their joy…
…We woke up this morning one hour before the alarm clock was supposed to ring. As a matter of fact, we barely slept at all last night out of excitement and anxiety…
Advertisement - story continues below
…We had all kinds of feelings in our minds while we were on our way to the ballot box except one feeling that never came to us, that was fear.

We could smell pride in the atmosphere this morning; everyone we saw was holding up his blue tipped finger with broad smiles on the faces while walking out of the center…
…The sounds of explosions and gunfire were clearly heard, some were far away but some were close enough to make the windows of the center shake but no one seemed to care about them as if the people weren't hearing these sounds at all. I saw an old woman that I thought would get startled by the loud sound of a close explosion but she didn't seem to care…
TRENDING: "Tell My Family I Love Them" - Not Making Headlines Today: Last Words of Murdered Police Officer Anthony Dia to Police Dispatch
Could any bravery match the Iraqis'!?

Let the remaining tyrants of the world learn the lesson from this day.
…The media is reporting only explosions and suicide attacks that killed and injured many Iraqis s far but this hasn't stopped the Iraqis from marching towards their voting stations with more determination…
Advertisement - story continues below
…How can I describe it!? Take my eyes and look through them my friends, you have supported the day of Iraq's freedom and today, Iraqis have proven that they're not going to disappoint their country or their friends…
…I walked forward to my station, cast my vote and then headed to the box, where I wanted to stand as long as I could, then I moved to mark my finger with ink, I dipped it deep as if I was poking the eyes of all the world's tyrants.

I put the paper in the box and with it, there were tears that I couldn't hold; I was trembling with joy and I felt like I wanted to hug the box…
Today, there's no voice louder than that of freedom.