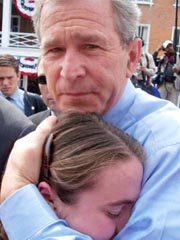 Mr. President, This Girl lost her Mom at the World Trade Center on 9-11
Ashley Simpson, the young girl who lost her mother on 9-11 at the World Trade Center and the focus of a Bush Election Ad, will be attending the inauguration this week…
In a moment largely unnoticed by the throngs of people in Lebanon waiting for autographs from the president of the United States, George W. Bush stopped to hold a teenager's head close to his heart.
Advertisement - story continues below
Lynn Faulkner, his daughter, Ashley, and their neighbor, Linda Prince, eagerly waited to shake the president's hand Tuesday at the Golden Lamb Inn. He worked the line at a steady campaign pace, smiling, nodding and signing autographs until Prince spoke:
"This girl lost her mom in the World Trade Center on 9-11."
TRENDING: Lindsey Graham Threatens Elon Musk After He Calls for De-escalation in Ukraine-Russia War
Bush stopped and turned back.
"He changed from being the leader of the free world to being a father, a husband and a man," Faulkner said. "He looked right at her and said, 'How are you doing?' He reached out with his hand and pulled her into his chest."
Advertisement - story continues below
Faulkner snapped one frame with his camera.
"I could hear her say, 'I'm OK,' " he said. "That's more emotion than she has shown in 21/2 years. Then he said, 'I can see you have a father who loves you very much.' "
"And I said, 'I do, Mr. President, but I miss her mother every day.' It was a special moment."