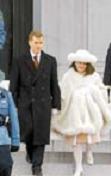 Matt Blunt (on the left)… and his wife Melanie (in the polar bear outfit) on Inaugeration Day.
Missouri Governor Matt Blunt was sworn in on Monday as Missouri's 54th governor. The 34-year-old will be the state's second-youngest leader after Christopher "Kit" Bond, who was elected in 1972. Blunt spoke on Sunday at Westminster College in Fulton, Missouri. The governor elect made clear that his faith will guide him in his decision making the next four years. This, of course, makes "Show Me State" liberals go bananas:
Advertisement - story continues below
"Certainly, something that I reflect on is that we all, whether we want to be or not, really are witnesses for our faith," Blunt said after the half-hour service at the Church of St. Mary the Virgin, Aldermanbury.
"And in our daily lives and in how we lead and in our actions, as we set public policy, we will reflect upon our faith."