Emails from Katie Hobbs' office to Twitter reveal that she abused her power and asked Twitter to censor tweets that were critical of her 2020 Election misconduct as early as November 2020, days after the election.
The Gateway Pundit previously reported on this collusion between Hobbs and Twitter to unconstitutionally censor Arizona and interfere with elections.
This information comes from the Missouri v. Biden case, where the Legendary Gateway Pundit Jim Hoft is a key plaintiff.
PROOF: Crooked Secretary of State Katie Hobbs Had Twitter Silence Her Critics in Arizona – Prior to Gubernatorial Run – Data From MO vs. Biden
Hobbs faced criticism over a 2017 tweet where she called Trump supporters "neo nazis," so she asked far-left Twitter to shut them up as she prepared to run for Governor.
Fox reports,
The post had critics online call into question Hobbs' impartiality when administering the election, and, according to emails obtained by Fox News Digital from conservative political organization Arizona Capitol Oversight, Hobbs tried to get Twitter, now known as X, to censor the criticism against her.

On Nov. 13, 2020, Hobbs emailed Twitter — using her official Arizona secretary of state email — asking the support team to take action against her online trolls.

Twitter asked for more information and for Hobbs to provide examples for her request, which Hobbs was unable to provide.

Hobbs responded by claiming she was being harassed by "alt-right" online critics after calling political opponents Nazis.
The screenshot below shows part of this exchange on November 13, 2020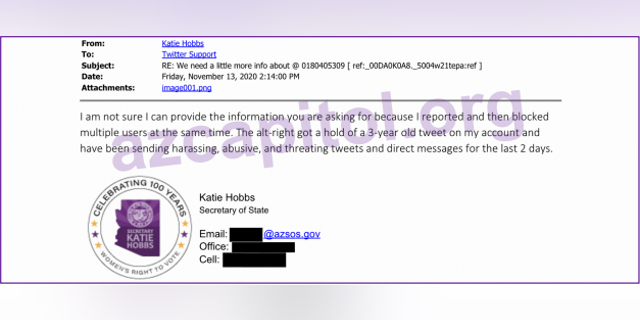 Katie Hobbs later continued her nasty tweets during her campaign for Governor while her critics were censored.
Now Hobbs wants to indict Trump in Arizona for questioning her shady election.
Dear Reader - The enemies of freedom are choking off the Gateway Pundit from the resources we need to bring you the truth.
Since many asked for it, we now have a way for you to support The Gateway Pundit directly - and get ad-reduced access.
Plus, there are goodies like a special Gateway Pundit coffee mug for supporters at a higher level.
You can see all the options by clicking here - thank you for your support!