As members of the House Oversight Committee met with J6 political prisoners at a Washington DC detention facility, where they languished in solitary confinement for over two years, Jonathan Mellis pled with the twelve members of Congress to probe the murder of Roseanne Boyland.
"There were four deaths on January 6. One of them is Roseanne Boyland," Mellis told The Gateway Pundit, describing his meeting lawmakers during their tour of the DC gulag's 'Patriot Pod' where J6 defendants are detained. "She is unique because there are over a dozen men who are facing many, many, many years in prison because we tried to help Roseanne Boyland. I've also been 25 months without a bond hearing."
"Also, I let them know that there is actual footage of me protecting an officer that day, Officer [Mike] Fanone, with many other men on January 6," he continued.
Rep. Marjorie Taylor Greene, who previously visited the jail in November 2021, worked with House Oversight Committee Chair James Comer, R-Ky., to spearhead the trip to the jail for members of Congress, including GOP Reps. Byron Donalds of Florida, Anna Paulina Luna of Florida and Mike Collins of Georgia and Democrat Reps. Jasmine Crockett and Robert Garcia.
"There were about twenty-five J6ers in this pod. They came in with several staffers and a whole bunch of DC jail administration, the directors… it was a big group that came in. It was very confusing. Once they came in we were lined up with each one. It was a hectic meet and greet," Mellis explained.
"I made a very particular effort to speak with them because I had one very clear and very precise message and that is, justice for Roseanne Boyland and the other three people who died on January 6, Ashli Babbitt, Kevin Greeson and Benjamin Phillips.
In footage obtained by The Gateway Pundit, Boyland's unconscious body is seen on the steps of the US Capitol on January 6 as distraught Trump supporters try in vain to resuscitate her. Boyland was seen getting beaten by a police officer to a pulp with a stick.
Desperate to save her life, the demonstrators finally carried her lifeless body up to the West Capitol Entrance and turned her over to the Metro Police Line as they begged law enforcement officials for help. From there, the police dragged Rosanne down the tunnel by her feet like a sack of potatoes and she was never seen again.
Police created a deathtrap as they persistently doused the crowd with tear gas. Protesters began to suffocate and pass out. Fellow protesters that desperately tried to assist the fallen were struck by police or teargassed as they begged for help.
"My message in a bottle was, 'Get justice for Roseanne," Mellis said. "If we can get justice for Roseanne, then we can get some form of justice for the dozen men who tried to help her and are now sitting in prison. I'm tired. I'm beaten down. I'm hoping that someone does something.
"I am just losing hope very quickly. I am drowning Marjorie — Ms. Greene, if you can hear me. I am drowning we are all drowning. I'm begging you to look into the death of Roseanne Boyland and talk to our lawyers. Talk to my lawyer."
CLICK HERE TO SUPPORT JONATHAN MELLIS' LEGAL FUNDS AND LIVING EXPENSES
Mellis was apprehended on Feb. 16 2021 in a pre-dawn FBI raid while visiting his parents at their home and treated as if he were an "Al Qaeda terrorist" for his involvement in the "planned J6 insurrection."
Federal prosecutors allege Mellis hit a police officer with a stick during the riot that changed his fate as Boyland was killed. The 34-year-old Virginia patriot is facing ten charges, including five charges of violence with a deadly weapon, according to the Department of Justice. He pleaded not guilty to all 10 charges. Mellis is allegedly seen in police body-cam footage "repeatedly striking and making stabbing movements towards the officers with the weapon in his hand" and attempting "to strike the officers' necks between their helmets and body armor where they are not protected," a criminal complaint states.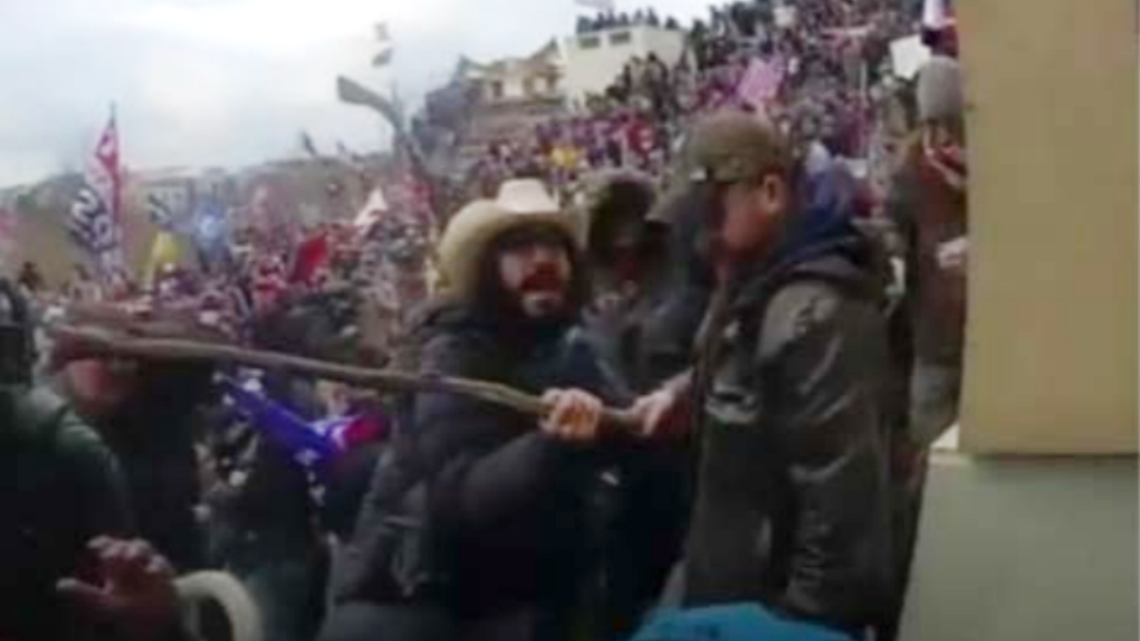 Traumatized after watching Boyland die in cold blood at the hands of a police officer, Mellis maintains he was only involved in the "ten-second" altercation with cops because he was trying to save Boyland's life.
A "Back the Blue" supporter, Mellis detailed the mayhem that ensued as peaceful protesters were tear-gassed by police.
"I got there late. The inaugural stage was already completely filled up by the time I got there. I was standing there, completely out of the action. My actions that day towards law enforcement lasted ten seconds. But I witnessed Roseanne die right in front of me. There were multiple other unconscious bodies. I'm not here to judge… I'm not here to point fingers," he said. "I'm here just to tell the American people that I didn't go there to commit violence.
"I was there on the inaugural stage by the tunnel entrance, that hallway and I walked up. I heard people screaming for help. My involvement lasted ten seconds over unconscious bodies. One of them was Roseanne Boyland and she died and everyone was screaming, 'She's dying' as I got involved for ten seconds of my life. And now I'm facing a very long time in prison away from my family and loved ones."
According to the corporate press, Boyland died from an overdose.
However, mounting evidence confirms Officer Lila Morris [Badge Number 5869] of the DC Metropolitan Police Newly struck unarmed Boyland with a wooden stick while the Jan. 6 protester was motionless on the ground after being gassed and trampled by police during the Capitol riot.
https://twitter.com/3sidedstory/status/1520031750520381441?s=20
It remains unclear whether the blows killed Boyland or she was already dead as she was beaten, or if she died shortly afterward.  Subsequently, Officer Morris was honored at the Super Bowl LV in Tampa, Florida in February for her "heroism" at the Capitol and called a "superhero" by D.C. Mayor Muriel Bowser. 
"I did not injure any police officers. I'm not accused of that. I saw a very life-threatening situation for someone who literally died and everyone was screaming for help. Those screams really do haunt me at night," Mellis said.
"There are times when I can't sleep thinking about the fact that I reacted for ten seconds over the body of Rosanne Boyland and I am sitting in prison and she is dead. So, I had no impact. I did not save her. That is something that I have wrestled with and that I have to deal with. I wish I could hug my loved ones and deal with it in an appropriate way. I have emotional healing I need to do from that."
CLICK HERE TO SUPPORT JONATHAN MELLIS' LEGAL FUNDS AND LIVING EXPENSES
Democrat lawmakers in tandem with the illegitimate Biden administration incessantly compare January 6 to Pearl Harbor and 9/11. Transcending hyper-partisanship cemented via state-run mainstream-media propaganda is fundamental to reform and justice for J6, Mellis argued while expressing gratitude to the two Democrats he had a chance to make his case to.
"I want to mention two of the Democrats that showed up, Robert Garcia and Jasmine Crockett. I want to give a special thank you to them. I really am very grateful that some Democrats actually got out of their comfort zone and came in to see us," Mellis said. "There are a lot of messages that we are trying to get out and it just really is very frustrating when we are preaching to the choir of the people who already know. They read all the news, they read the New York Post, they are conservatives that we already talk to; they read The Gateway Pundit, they read Epoch Times, they watch Fox News and News Max and OAN. It was nice to actually talk to people who don't get their news from those sources.
"I am trying among our side to open up to the Democrats," he added. "There is left media and right media. We are in two separate vacuums, America, and we are not hearing what the other side has to say, especially when it comes to the four people that died on the Capitol grounds on January 6. It's just very frustrating when, not just me, but a dozen men are screaming from the rooftops…the name of Roseanne Boyland when the footage is so clear that we were all trying to help her and we are sitting in prison for 25 months at this point with no end in sight."
The decrepit conditions of the Central Detention Facility have become notorious as J6 political prisoners sound the alarm on the cruel and unusual abuses they endure at the jail.
In Dec. 2021, a US Marshals Service conducted an inspection of the Patriot Pod and found "systemic failures" including jail employees withholding food and water from inmates as punishment and turning off the water in their cells. "Human waste and raw sewage overflowed in toilets and there was rampant drug use, according to the inspection," NBC Washington reports.According to the Marshal's statement inspection determined the conditions of the main jail facility conditions "do not meet the minimum standards of confinement as prescribed by the Federal Performance-Based Detention Standards." As a result, approximately 400 inmates in federal custody were transferred from the DC jail to federal prison.
"For nearly a year of my incarceration, I have been subjected to solitary confinement. This means 23 hours or 22 hours every day in my cell. I got one or two hours a day outside of my cell to shower and make a phone call. I was taken out of this pod randomly one day and placed in the hole, which is a worse version of solitary confinement with chains, for 35 days with no due process or explanation," Mellis explained.
Ahead of the high-profile visit from Democrat lawmakers, the jail underwent a renovation.
"We have been treated terribly in this DC jail," Mellis continued. "A year and a half — all of a sudden in the last six months things have started to improve. We got our visitations just a couple of months ago – finally after two years. We were all in solitary confinement for over a year. We've dealt with brown water, black mold. The conditions of this jail are getting better because of the visits.
In the last week or two, we've had so many maintenance crews come in for plumbing. And the black mold – several cells in this pod were condemned for black mold. We dealt with brown drinking water, over a year of solitary confinement, two years [of] no visitation – not seeing our families or anything, and abusive guards and violence against us from the guards for us being non-violent. We are not violent people."
Despite Mellis' optimism about Democrat support and bipartisanship, Garcia and Crockett immediately trashed the J6 political prisoners after leaving the jail, warning the "insurrectionists" demonstrated they had no remorse for their actions."
"The worst part about it was when we actually saw the inmates, the Republicans rushed to them like they were celebrities and talking to them, patting them on the back, interacting with them These are folks that show no remorse," Garcia said in an interview on MSNBC's "Deadline: White House."
Crockett told reporters following the visit about her meeting with Mellis and lamented about how he was "definitely not remorseful" and "proclaimed" his innocence.
The Texas Democrat also claimed the medical area for inmates was "kind of amazing" and almost "a little hospital inside the jail."
"There's definitely a doctor always here. They provide dental. They were showing us X-ray," she said "I mean they have everything here."
CLICK HERE TO SUPPORT JONATHAN MELLIS' LEGAL FUNDS AND LIVING EXPENSES
Dear Reader - The enemies of freedom are choking off the Gateway Pundit from the resources we need to bring you the truth.
Since many asked for it, we now have a way for you to support The Gateway Pundit directly - and get ad-reduced access.
Plus, there are goodies like a special Gateway Pundit coffee mug for supporters at a higher level.
You can see all the options by clicking here - thank you for your support!