An overwhelming majority of respondents polled on Donald Trump's Truth Social platform suspect demonstrations against the former president's arrest will make protesters susceptible to a January 6-style set-up.
When asked whether the potential protest against Trump being arrested is "a J6-style trap," a staggering 85 percent of Trump supporters answered the affirmative.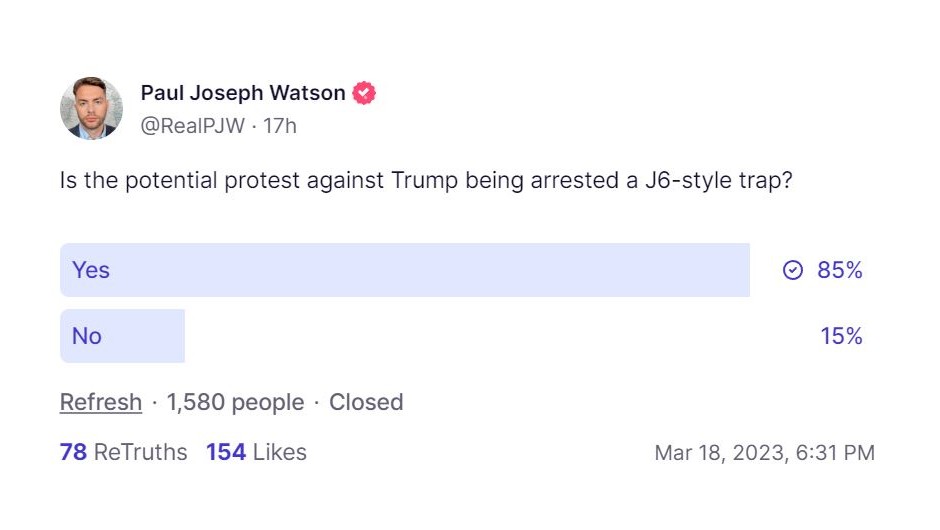 On Saturday morning, Trump warned the public to anticipate his arrest on Tuesday, citing "illegal leaks" from Manhattan District Attorney Alvin Bragg's investigation into Trump's alleged illegal payment made to porn actress Stormy Daniels.
Prosecutors claim Trump violated campaign finance laws for a $130,000 payment his former attorney, Michael Cohen, paid to Daniels during the 2016 campaign for her silence about an alleged affair.
According to the sentencing memorandum in Cohen's case, Trump's company "falsely accounted" for those payments by listing them as "legal expenses" under a nonexistent retainer agreement with Cohen.
The state charges that Bragg is leveling against Trump are based on a New York Law that makes it a misdemeanor, but prosecutors are navigating to turn the charges into a felony by charging Trump with additionally violating New York State election law.
As Reason reports, "Under New York's law, falsification of business records becomes a Class E felony, punishable by up to four years in prison, when the defendant's 'intent to defraud includes an intent to commit another crime or to aid or conceal the commission thereof.' But what is the other crime?"
"THE FAR & AWAY LEADING REPUBLICAN CANDIDATE & FORMER PRESIDENT OF THE UNITED STATES OF AMERICA, WILL BE ARRESTED ON TUESDAY OF NEXT WEEK. PROTEST, TAKE OUR NATION BACK!" Trump posted in response to the news.
The 2024 GOP presidential candidate also called on his supporters to protest.
"WE JUST CAN'T ALLOW THIS ANYMORE. THEY'RE KILLING OUR NATION AS WE SIT BACK & WATCH. WE MUST SAVE AMERICA! PROTEST, PROTEST, PROTEST!!!"
He also called for demonstrations in another post, proclaiming, "WE JUST CAN'T ALLOW THIS ANYMORE. THEY'RE KILLING OUR NATION AS WE SIT BACK & WATCH. WE MUST SAVE AMERICA! PROTEST, PROTEST, PROTEST!!!"
Americans are increasingly aware of the false narrative pushed about the J6 protests. Hours of footage released earlier this month confirm J6 protest leaders were allowed entry into the Capitol building and were peacefully escorted by police officers.
More than 1,000 people have been arrested for protesting at the U.S. Capitol building on Jan. 6, 2021, with charges ranging from obstruction of an official proceeding to assault.
Mounting evidence confirms covert FBI agents and provocateurs like Ray Epps conspired against Trump supporters on J6.
Defense attorneys representing the Proud Boys' in the Seditious Conspiracy trial recently revealed the Federal Bureau of Investigations created "1776 Returns," a document that outlines strategic plans for the takeover of US government buildings on January 6, 2021, to entrap the group's leadership. The mysterious government-created document was sent unsolicited to Proud Boy Chairman Enrique Tarrio's Telegram right before January 6th by undercover agent Flores. Tarrio currently stands trial in D.C. and has been charged with Seditious Conspiracy and faces up to eighty years in prison along with four fellow members of the Proud Boys.
House Speaker Kevin McCarthy, R- CA, blasted Bragg on Sunday for "abusing his office" by targeting Trump while facilitating crime to run rampant in New York.
"Alvin Bragg is abusing his office to target President Trump while he's reduced a majority of felonies, including violent crimes, to misdemeanors. He has different rules for political opponents," McCarthy said on Twitter following Trump saying on his Truth Social that he believes he will be arrested this coming week after "illegal leaks."
Alvin Bragg is abusing his office to target President Trump while he's reduced a majority of felonies, including violent crimes, to misdemeanors. He has different rules for political opponents.

Republicans stopped the radical DC crime law, and we will investigate any use of… https://t.co/5yYIo8SUOC

— Kevin McCarthy (@SpeakerMcCarthy) March 19, 2023