AFP is now fact-checking joke memes about Hillary Clinton and Queen Elizabeth II.
The memes showed a fake quote from Queen Elizabeth II saying she had information that would lead to the arrest of Hillary Clinton.
Social media posts claim Queen Elizabeth II announced before she died that she had information that could lead to the arrest of Hillary Clinton. This is false; there is no record of the queen making such a statement, and the claim matches a years-old meme that reflects a conspiracy theory that the former secretary of state and her husband kill their political opponents.
"I have information that will lead to the arrest of Hillary Clinton," the queen is quoted as saying in an Instagram post shared September 9, 2022.

Variations of the same message circulated across Facebook and Instagram in posts that appeared to show screenshots of Twitter pages associated with the queen. Twitter accounts impersonating her also repeated the line.
Here are some of the memes: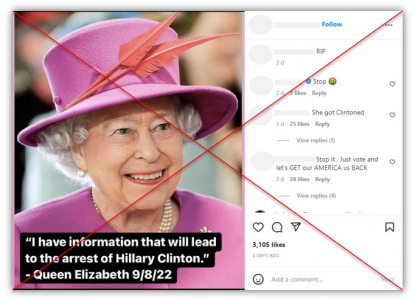 When will they classify this as "dangerous misinformation?"
People mocked the AFP for missing the joke:
He's factchecking this one next! pic.twitter.com/AIMOf4x2VA

— John C. Alsedek (@BlueHours) September 15, 2022
You don't need to be missing a sense of humor to be a Liberal — but it sure helps!