Trump-endorsed candidate for Wisconsin Governor Tim Michels has been allowed back on the ballot by the Wisconsin Elections Commission.
The committee voted unanimously in favor of Michels after Democrats tried to get him kicked off the ballot — they said he had the wrong address on nomination papers.
The Democrats alleged that because of the error he only had 350 legitimate signatures and not the 2000 needed that were required.
Wisconsin elections officials voted Friday to allow Donald Trump's endorsed candidate to stay on the Republican primary ballot in the presidential battleground state, pushing aside a Democratic challenge to his nomination papers.

The bipartisan Wisconsin Elections Commission voted unanimously to allow construction company co-owner Tim Michels to appear on the ballot.

…

Two days later, the state Democratic Party filed a complaint with the elections commission alleging that Michels used the wrong address on his nomination papers. It alleged that the mistake left Michels with only about 350 valid signatures. Michels needed 2,000 valid signatures to qualify for the ballot.
He celebrated the ruling in a statement: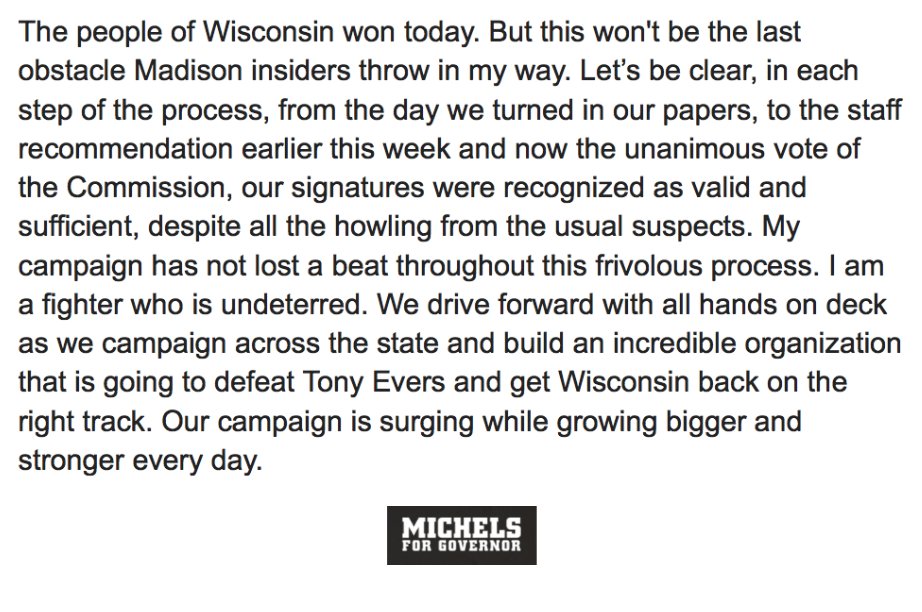 The primary race will be held on August 2nd.
Another win for MAGA!