Thousands of outraged freedom activists surrounded the Vancouver Trade & Convention Center in Canada on Sunday demanding the arrest of Bill Gates ahead of the globalist billionaire's keynote appearance at TED Talk where he has previously outlined plans for depopulation through the vaccines.
Vancouver shows up outside Bill Gates' Ted Talk to let him know his anti-virus software sucks 👇 pic.twitter.com/FiK6hMmKwt

— Don Wilson (@DNSWilson) April 11, 2022
Advertisement - story continues below
Opponents of COVID-19 mandates have been mobilizing for weeks to publicly shame the billionaire magnate who has religiously promoted experimental gene modification injections that have taken millions of lives around the globe and left others critically injured.
Chris Sky, an ardent freedom activist who has been arrested multiple times while protesting vaccine mandates in Canada, led the massive crowd of protesters to peacefully march to the front door of the convention center.
TRENDING: BREAKING EXCLUSIVE: TGP Caught Corrupt FBI Inserting Docs during Mar-a-Lago Raid to Make Trump Look Bad - But Now They're Gone!
"They put up all these barricades and they tried to ostracize us into this little corner here," Sky warned. "And it makes perfect sense. They're all about optics. They want to be able to show the world that this TED Talk happened and it had the full support of the city of Vancouver and the people of Vancouver so then it looks like the agendas on the TED Talk also have the support of everyone in Vancouver. So I want to propose a little something to screw with their optics. I want to do a quick march to the front door of the convention center."
WATCH: 
Advertisement - story continues below
"Arrest Bill Gates! Arrest Bill Gates!," scores of fed-up demonstrators thunderously roared.
WATCH: 
"According to various Facebook posts, convoys have been organized from Vancouver Island, the Okanagan, and possibly even Alberta," Straigt.com reports.
Advertisement - story continues below
Gates is hellbent on "modifying our DNA," a demonstrator cautioned during a speech at the "Super Protest," but, "He is not our God. He is not a doctor. It's not a pandemic, it's a pandemic. He's not elected but he thinks he is more important than the government itself."
"Bill Gates, you're not welcome here." A protest against globalism has gathered near the Vancouver Convention Centre were Bill Gates is scheduled to speak at the 2022 TED Conference. https://t.co/AxdZaUWh3V

— Hungry for Truth with Drea Humphrey (@DreaHumphrey) April 10, 2022
Physicians also took the state at the demonstration against Gates.
Advertisement - story continues below
Doctors from Doctors on Tour take the stage outside of the 2022 Ted Conference for the"Bill Gates you're not welcome here" protest in Vancouver.

Full report coming soon on Rebel News https://t.co/uHTK2Lj24P

— Hungry for Truth with Drea Humphrey (@DreaHumphrey) April 10, 2022
"Any doctors who start to speak up against the mandates, who start to speak up about the media narrative, are paying a price," Dr. Sofia Bayfield declared. "We are paying a price professionally. Psychologists are going after us. We are losing our hospital privileges.
"Many of our colleagues who are surgeons and radiologists — who work in hospitals have not worked since October. Shame. As we know, science is never settled. Even Albert Einstein said we have to debate. Science is always an ongoing debate. This is very important. The risk that we are taking in standing up is worth it. It is our moral obligation."
According to the TED Talk 2022 website, Gates will give a presentation outlining his book "How to Prevent the Next Pandemic" during his appearance at the high-powered four-day conference which concludes on April 14.
Advertisement - story continues below
The Microsoft co-founder and depopulation globalist will also discuss "what it's been like to become the subject of conspiracy theories."
Mainstream media and fact-checkers insist claims that Gates is a eugenicist are premised on conspiracy theories, the 66-year-old business magnate has openly advocated for reducing population growth.
In a 2010 TED Talk presentation that has been widely circulated during the manufactured COVID-19 pandemic, Gates outlined plans to use vaccines to reduce the rate of global population growth and lower carbon emissions.
Advertisement - story continues below
"The world today has 6.8 billion people," Gates said during the talk. "That's headed up to about 9 billion. Now, if we do a really great job on new vaccines, health care, reproductive health services, we lower that by perhaps 10 or 15%."
During a 2009 TED Talk, the Microsoft co-founder released a swarm of mosquitoes on an unsuspecting audience.
Advertisement - story continues below
The Bill and Melinda Gates Foundation has awarded grants to biotech company Oxitec to develop genetically modified mosquitoes. Gates claims the mutated mosquitos reduce the spread of malaria and other mosquito-borne diseases and heralded bioengineering of the insects as, "The Best Investment I've Ever Made."
In April 2021, the Gates-Funded firm released approximately 150,000 genetically modified mosquitoes across Florida.
Performance at the Bill Gates protest in Vancouver. Full report coming soon @RebelNewsOnline https://t.co/d4u1QHgv2N

— Hungry for Truth with Drea Humphrey (@DreaHumphrey) April 10, 2022
Advertisement - story continues below
As the Gateway Pundit has reported, freedom activists are also directing their ire against Elon Musk and climate change fraudster Al Gore who are slated to speak at TED Talk.
Musk, a new majority Twitter shareholder who has emerged as the richest person in the history of the world with an estimated $256bn fortune, is glorified by the mainstream as "The Most Badass CEO In America" and a pop-cultural icon.
But like Gates, the SpaceX CEO is endeavoring to spearhead a transhumanism evolution.
Advertisement - story continues below
Musk's brain chip firm, Neuralink, is currently recruiting for a "clinical trial director" to run tests on humans with brain chips or "brain hacking" technology. The brain chips would be "implanted flush with skull & charges wirelessly, so you look and feel totally normal," Musk has disclosed.
Neurolink has already implanted artificial intelligence microchips in the brains of monkeys and pigs.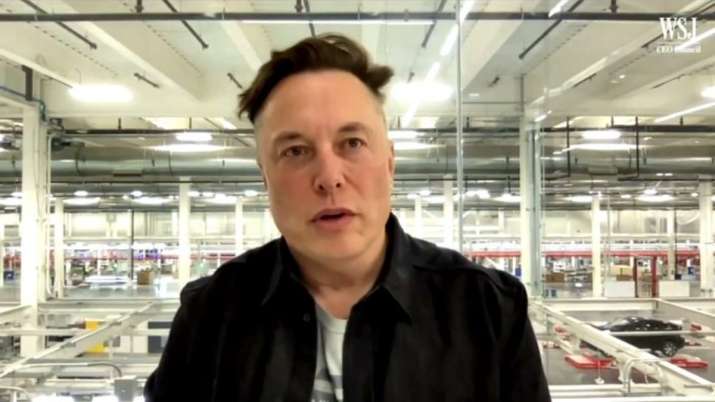 "Musk has previously claimed that Neuralink's technology could eventually be used to augment humans, potentially enabling people to store and replay their memories like watching videos on computers," Fortune reports.
Advertisement - story continues below
Despite the massive turnout calling for the murderous gene modification peddler to be brought to justice, not a single mainstream media outlet covered the protest.
The Daily Beast, however, called attention to the peculiar number of speakers slated to speak at the conference with longstanding ties to Jeffery Epstein.
In an article published on Friday titled, "This Year's TED Conference Will Be a Mini Epstein Reunion " the publication details the extent "the sold-out event will also function as a reunion of sorts for the late sex offender Jeffrey Epstein's web of connections."
Advertisement - story continues below
The conference's attendees and speakers include those "with alleged ties to Epstein including Bill Gates, former MIT Media Lab director Joi Ito (listed as a remote attendee), Elon Musk, Google founder Sergey Brin, computer scientist Danny Hillis, and former Gates adviser Boris Nikolic, who was named as a backup executor in Epstein's last will and testament," Daily Beast reports, highlighting the numerous meetings each speaker had with the slain child rapist.