Former Attorney General William Barr did nothing to stop the 2020 election steal.
He told Lt. Col Tony Shaffer to stop investigating election fraud claims surrounding fraudulent ballots being shipped from New York to Pennsylvania.
Advertisement - story continues below
AG Barr Told Lt. Col. Tony Shaffer to Stop Looking Into Truck Driver Jesse Morgan's Testimony That He Moved More Than 200,000 Fraudulent Ballots from NY to PA Before the 2020 Election
Plus, a former US Attorney from Pennsylvania alleged that William Barr told him not to investigate election fraud.
TRENDING: WATCH: "What About The $80,000 For Alcohol?" - Ronna Romney McDaniel Runs From TGP Reporter When Asked About Spending Millions On Luxury Items Before RNC Chair Election In Dana Point, CA
BREAKING: President Trump Releases Letter from US Attorney Who Claimed AG Barr Told Him Not to Investigate the 2020 Election Results in Pennsylvania
Now, Barr has decided to write a book bashing 45th President Donald Trump.
Advertisement - story continues below
He ran to the mainstream media to tout the book.
Barr is on the wrong side of history on the 2020 election, as is the Supreme Court. Barr dismissed his responsibility to investigate, and to secure the integrity of the election: Former AG Barr on the moment Trump accepted his resignation https://t.co/LCaLVjVy8S via @nbcnews

— Lou Dobbs (@LouDobbs) March 5, 2022
Trump has officially responded – he didn't hold back.
Trump explained that the reason AG Barr didn't investigate voter fraud was that he was scared of being impeached by the Democrats.
Trump said, "he wanted to save his own hide."
Advertisement - story continues below
NEW!

President Donald J. Trump:

"Former Attorney General Bill Barr wouldn't know voter fraud if it was staring him in the face—and it was. The fact is, he was weak, ineffective, and totally scared of being impeached, which the Democrats were constantly threatening to do… pic.twitter.com/Z144I6sl0b

— Liz Harrington (@realLizUSA) March 4, 2022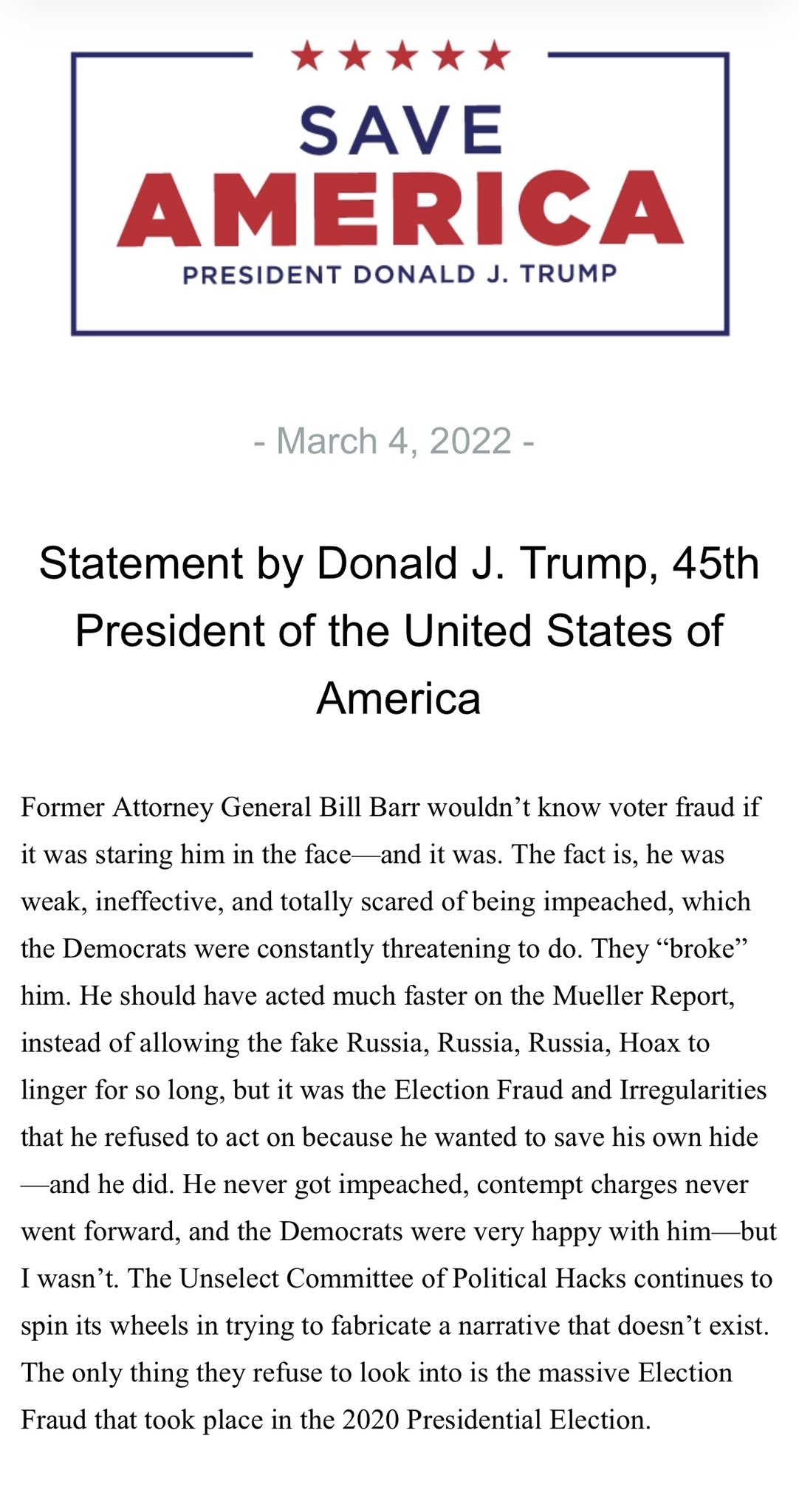 Sadly, Barr is just another RINO who kowtowed to the Democrats.