The Trump-hating group the Lincoln Project was forced to admit to planning the Tiki torch stunt in Virginia.
The "white supremacists" who were pictured in front of Republican candidate for Virginia governor Glenn Youngkin's campaign bus were actually Democrat operatives.
The Lincoln Project, a group of pyscho Trump-hating Republican operatives, issued a statement Friday afternoon claiming credit for the false flag Tiki torch stunt Friday morning in Charlottesville that targeted the campaign of Republican candidate for governor Glenn Youngkin. (Update at end, a liberal activist claims co-credit.)

The stunt was reported by WVIC-TV reporter Elizabeth Holmes who reported the operatives said something like, "We're all in for Glenn,"
as they formed up in front of the Youngkin campaign bus parked outside an event at a Guadalajara Restaurant in Charlottesville.
Of course, the usual people fell for the hoax.
Rep. Eric Swalwell(D-CA) tweeted this out blaming the GOP for what Democrat operatives did.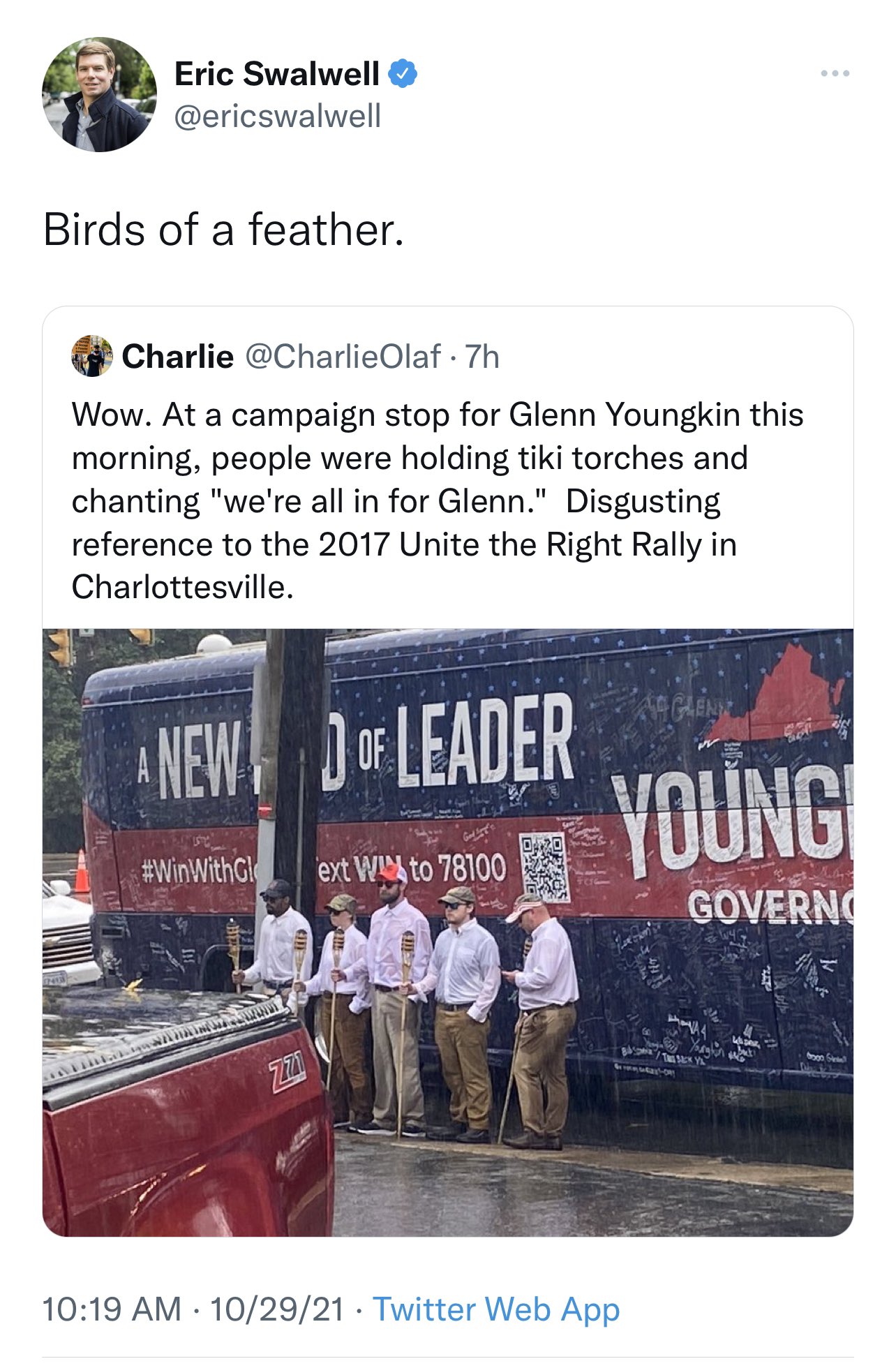 Tucker Carlson didn't hold back.
He blasted Eric Swalwell during a segment on his show.
It's not surprising that @ericswalwell fell for today's hoax. He's not a very bright human being pic.twitter.com/a0QaxRPNlr

— Tucker Carlson (@TuckerCarlson) October 30, 2021
From the video:
"One person in DC who fell hard for that hoax immediately was California congressman Eric Swalwell. You probably aren't surprised to learn that. It is not a partisan point to note that whatever else he may be Eric Swalwell is legitimately stupid.
Some of his colleagues have compared him to a Labrador with a head injury. That doesn't seem quite fair. There is literally no chance Eric Swalwell could ever find a tennis ball. He can barely remember to breathe. Our enemies know just how dumb Eric Swalwell is and they have exploited it. If you are a marginally attractive Chinese spy, for example, hoping to commit bizarre sex acts with an American politician in order to steal this countries secrets sooner or later you would end up at Swalwell's place because it is just too easy.
This morning Swalwell was staring at the internet as he often is when he saw the picture of those fake Nazis in front of Glenn Younkin's campaign bus in Virginia. Here is the amazing part.
A normal person looking at this, someone with an IQ over 70 might have paused for a moment and wondered, that's funny what is a black guy doing holding a torch at a white supremacy event. That seems weird. But that didn't occur to Eric Swalwell. He didn't wonder about it, it didn't seem weird to him it all seemed perfectly normal."
Ouch!!
Dear Reader - The enemies of freedom are choking off the Gateway Pundit from the resources we need to bring you the truth.
Since many asked for it, we now have a way for you to support The Gateway Pundit directly - and get ad-reduced access.
Plus, there are goodies like a special Gateway Pundit coffee mug for supporters at a higher level.
You can see all the options by clicking here - thank you for your support!