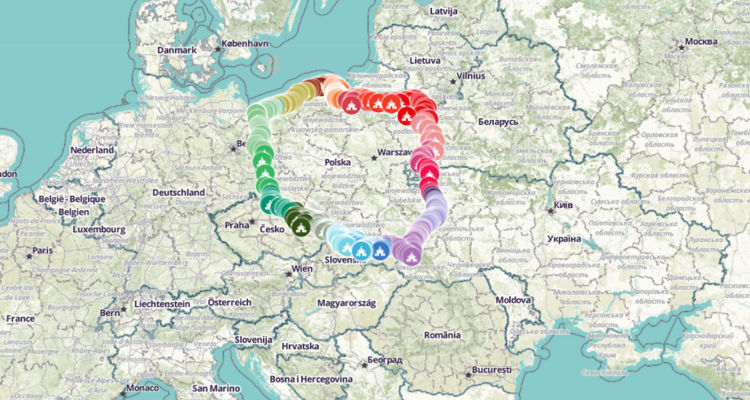 Polish PM, Beata Szydło Tweets Support For Event Marking Feast of Our Lady of The Rosary, Commemorating Historic Victory That Saved Europe from Ottoman Turks in 1571

Hundreds of thousands of Poles took part in a massive prayer vigil Saturday, forming a human chain which spanned the length of the nation's 2,200-mile border – through forested wilderness and snowy mountain crossings, along river banks and coastal beaches. Fishing trawlers and sailing boats joined the event on open water whilst airport chapels were said to be overflowing.
The 'Różaniec do grana'', or ''Rosary to the Borders'' event was deliberately planned to coincide with the liturgical feast day of Our Lady of the Rosary (October 7th), which commemorates the landmark 1571 Battle of Lepanto in which outnumbered European forces under Pope Pius V won a decisive naval battle against the Ottoman Turks. The victory, credited with saving Europe from Islamic expansion, was attributed to the praying of the rosary by beleaguered Christian forces.
Impressive crowds gathered for Mass Saturday morning, followed by processions to 4,000 border locations, each selected to be several hundred yards from the next so as to encircle the entire Polish territory in a ''chain of prayer.''
At 2pm, along the length of the border, the rosary was recited by hundreds of thousands to invoke spiritual protection from secularism and Islamization, according to organizers.
In Catholic tradition, the rosary has long since been considered a spiritual weapon against evil, and a means of conversion to Christ by way of his mother, Mary.
Social media accounts were soon flooded with images of the unusual event, which organizers hope will have mobilized at least one million of Poland's predominantly Catholic population of 38 million.
Archbishop of Krakow, Marek Jedraszewski asked participants to pray "for other European nations to make them understand the necessity of returning to their Christian roots in order that Europe remains Europe."
Polish Prime Minister, Beata Szydło, a devout Catholic and mother of a recently ordained priest, tweeted an image of her own rosary beads and a greeting in support of those taking part.
In certain cases, Polish citizens were joined in prayer by participants across the border; Poland has land borders with Lithuania, the Czech Republic, Slovakia, Germany, Ukraine, Belarus and Russia (Kaliningrad).
The popularity of the event reflects the level of Christian faith still found in Poland along with a general sense of foreboding over what many Poles see as an attack on their values coming from a European Union accelerating into chaos.
"Poland is in danger. We need to shield our families, our homes, our country from all kinds of threats, including the de-Christianization of our society, which the EU's liberals want to impose on us," one participant explained to the AFP, adding that Islam was again becoming a threat as in centuries past.

Organized by a group of lay Catholics, Solo Dios Basta (God Alone Is Enough), the project was the idea of young documentary film-maker, Maciej Bodasiński, and enjoyed the support of numerous actors, sports stars and media personalities.