Chicago crews have closed over 1,700 fire hydrants.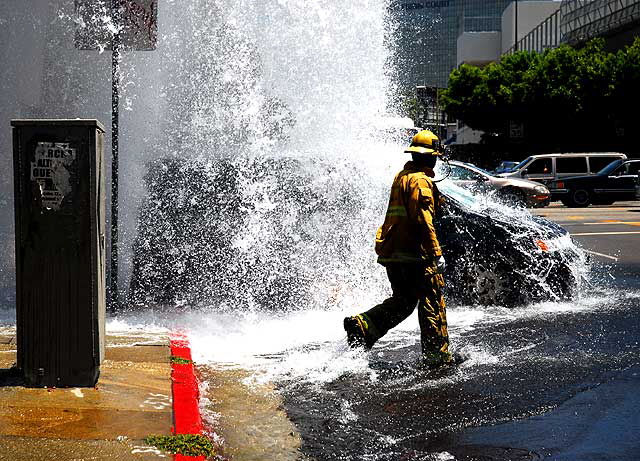 (Justabovesunset)
CBS Local reported, via Free Republic:
City crews scrambling to turn off nearly 2,000 fire hydrants opened by residents seeking relief from the heat required a police escort to protect them from gang members and others upset with the shutdowns.

CBS 2 found one city crew being followed by a police sport-utility vehicle as they crisscrossed neighborhoods, turning off a total of 1,921 hydrants.

"It's a waste of water, and I have to do my job," said 20-year Water Management Department veteran Richard Quarles.

Quarles was surrounded by a group of people who dumped water on him as he shut down a hydrant that was spewing hundreds of gallons of water into the street.

"The gangbangers and the neighborhood tough guys, they could crack you over the head with something. Anything can happen," he said.

City officials warned residents that turning on hydrants is a safety problem. Cars have a hard time seeing kids playing under the water in the street.

The open hydrants call also flood basements, parked cars and significantly lower water pressure, which could hamper firefighters.

"Don't open a fire hydrant to stay cool," said Gary Schenkel, executive director of the city's Office of Emergency Management and Communications.

But that message is lost on many children who play in the spray of water from open hydrants to keep cool and to some adults who defend the practice.