Violence continues to escalate between Fatah and Hamas factions in Gaza,
REUTERS VIDEO HERE
Israel seized a more than half a ton of TNT which an Egyptian boat tried to transfer to two Palestinian boats from Gaza last week.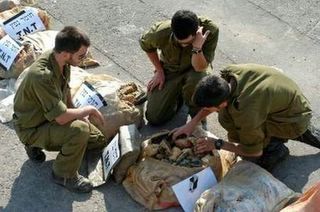 Israeli soldiers look into bags containing 550 kilograms (1212 pounds) of TNT explosives at a navy military port in the coastal Israeli city of Ashdod May 9, 2006. Israel thwarted an attempt by Palestinians to smuggle explosives to the Gaza Strip by sea from neighbouring Egypt last week, the military said. (REUTERS/Avi Rocach)
Nine Palestinians were hurt including five children on the way to school today in Gaza:
Advertisement - story continues below
Nine Palestinians, including five children on their way to school, were wounded in a gunfight in Gaza City. Each side blamed the other for triggering it.

Then, Hamas militants attacked the funeral procession in southern Gaza for a Fatah gunman killed Monday, setting off two bombs and opening fire. Fatah gunmen dropped to the ground and returned fire. Three bystanders were wounded, hospital officials said.

TRENDING: Dallas Soccer Star Reggie Cannon Calls Fans "Disgusting" for Booing and Chanting "USA!" as Players Knelt for National Anthem

"We call everyone to resort to calm and rule of law and turn clashes to dialogue," Hamas' political leader Khaled Mashaal and Fatah official Farouk Kaddoumi, meeting Tuesday in the Syrian capital, said in a joint statement. "If strife occurs the Zionist Entity will be the only beneficiary."

Palestinian gunmen from the Fatah movement take position during clashes with Hamas gunmen in Gaza May 9, 2006. (Mohammed Salem/Reuters)
Advertisement - story continues below
Also, LGF is reporting that an Al Qaeda offshoot group has found a home in Gaza:
In leaflets telefaxed to reporters and pasted on street corners in Gaza City, the 'al-Quds (Jerusalem) Islamic Army' said that, like its parent organization, it would target 'the crusaders and every enemy of Islam and Muslims and their collaborators.'

'We will blow up our bodies in their positions' and 'strike with an iron fist at all the crusader, American and Zionist campaigns,' said the statement, adding the group adhered to the principles of al-Qaeda leaders Sheikh Osama Bin Laden, Ayman al-Zawahri and Musab al-Zarqawi.
But, please don't worry. The militant groups have agreed to stop the violence… for a few weeks… days… hours.
Yesterday, three Palestinians were killed in violence between militant factions. Later, fire erupted in the upper floors of the Palestinian legislature as crisis continued in the Palestinian territories.