Laura Bush brought a message of hope to the women in Africa this week.


Jeanette Kagami, Rwanda's First Lady, Cherie Blair, wife of Britain Prime Minister Tony Blair and First Lady Laura Bush attend a wreath-laying service at the Gisozi Genocide memorial in Kigali, Rwanda on Thursday. (AP)
Laura Bush, Jenna Bush, and Cherie Blair paid tribute to those who lost their lives in Rwanda in 1994, yesterday:
Laura Bush paid tribute Thursday to the "precious lives lost" and promised U.S. help as Rwanda recovers.
Advertisement - story continues below
Blair said it was especially poignant for her to be remembering the British dead at a site that marks those lost in Rwanda.
"I am very moved by what I have seen, also distressed that the world looked on while it happened," Blair said.
TRENDING: The Gateway Pundit Announces: AMERICAN GULAG - The Informational Website on the Jan. 6 Political Prisoners
After touring the museum exhibit, the women, all somber, signed a visitors' book.

First Lady Laura Bush and daughter Jenna hold Rwandan children as they attend a church service today.
Advertisement - story continues below
Laura asked the Rwandan President for answers:
Laura Bush says she is looking to Rwandan President Paul Kagame to suggest how the U.S. can make sure that a genocide his country experienced more than a decade ago is not repeated in the Sudan's Darfur region or anywhere else.
Laura Bush handed out "George Bush" crayons Zanzibar, Tanzinia as she visited one of the several schools the US has set up in the area:
The first lady visited a school today on Zanzibar, admiring the mud pies made by the wide-eyed, red-uniformed preschoolers playing in the schoolyard. The school is one of 16 on the island set up with U-S seed money.
Advertisement - story continues below
Mrs. Bush came bearing gifts. The youngsters eagerly dove into tote bags containing White House coloring books, George Bush crayons and books that the first lady and daughter Jenna handed out.
The former school librarian also visited a teacher training school, announcing a gift of 20-thousand donated books.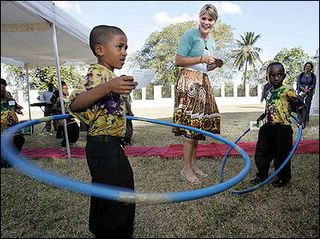 Jenna Bush watches children perform in Dar es Salaam. Jenna and twin sister Barbara are accompanying their mother in Africa.
Laura Bush set out on the trip to Africa on Tuesday to bring hope to the suffering continent and to highlight the battle against AIDS and contributions by her husband's administration:
Advertisement - story continues below
Laura Bush, clearly moved by a jubilant song from a roomful of HIV-positive South African mothers, thanked them on Tuesday for "stripping away the stigma" of the disease and helping prevent more babies from being born with AIDS.
Mrs. Bush's three-nation African trip is aimed at highlighting the battle of her husband President George W. Bush and his administration against AIDS on the world's poorest continent. Tuesday, Mrs. Bush visited a health complex set amid thousands of tin shacks with tar paper roofs held down by tires in the Khayelitsha area outside Cape Town.
About 400 women deliver babies at the facility each month. Though 28 percent of them have the virus that causes AIDS, treatment at the facility has reduced the transmission of the disease to their newborns to less than 5 percent, said Dr. Keith Cloete, health director for the Western Cape province.
Update: I just noticed the caption from this Reuter's picture…
Advertisement - story continues below
Africa has heard rich nations promise to help the continent out of poverty before, but has ended up with little more than crumbs. After the euphoria of last week's meeting of the Group of Eight wealthy nations that pledged billions of dollars in new aid and debt relief, a continent sobered by the G8's poor record of delivery is wondering whether it really won anything.
That's pretty morose! How much do you want to bet that Africa is elated and that Mike Hutchings from Reuters is the one who is down!
If anyone has data on the G8's contributions to Africa please post it below. I would like to see what has Mike so depressed!
Update 2: (4:30 PM)Instapundit, Glenn Reynolds, likes the "movie sounding title" of this post. I like the pictures!
Advertisement - story continues below
Update 3: (7:00 PM) Reader KC generously took some time to find some information about an estimated $500 Billion in Aid over 50 years to Africa.
The G8 promised $50 billion in aid to Africa at the Scotland Summit.
Millineum Challenge provides assistance to countries who are making strides in democracy.
Also, HERE is a post with a video of President Bush welcoming several African leaders from countries where successful democratic elections were held this past year.
Advertisement - story continues below
And, earlier this year, Madagascar was the first recipient of a US aid initiative that rewards developing countries for their commitment to political and economic reforms.