VIDEO OF PALESTINIANS BATTLING EACH OTHER IN GAZA HERE
Armed militants fired shots inside the Shifa Hospital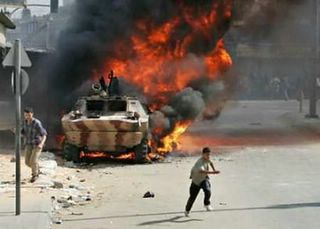 Two bystanders were killed as Palestinian factions fought each other in the Gaza Strip today.
This news out from Al Jazeera says that the Israelis killed one of the women although this is not mentioned on other news wires:
Advertisement - story continues below
The internal conflict erupted on Thursday night and resumed on Friday after fighters fired rockets into southern Israel, killing a young woman, and Palestinian police then confronted them in an effort to prevent further barrages.
"One civilian was killed and a total of 16 injured, several of them seriously," a doctor at a Gaza hospital said.
TRENDING: The Gateway Pundit Announces: AMERICAN GULAG - The Informational Website on the Jan. 6 Political Prisoners
One of the dead was named as Ismail al-Amarin. Doctors later pronounced a second civilian dead, saying he too had been shot in the head. Witnesses said the two dead were unarmed male teenagers.
Fighting raged in the Zaitun neighbourhood of Gaza, a known Hamas stronghold, pitting Palestinian security forces in armoured vehicles against resistance fighters firing anti-tank missiles, witnesses said.
Advertisement - story continues below
By midday Aljazeera reported that Islamic Jihad had offered to mediate between Hamas and the police, calling for a ceasefire between the sides and an urgent meeting to resolve the differences.
Families of the casualties were outraged by the violence and armed relatives fired shots inside Shifa hospital before Palestinian police moved in to restore order.
The AP has more chilling news of the situation:
Later Thursday, armed and masked Hamas men talked to reporters in Gaza City, warning that the fighting could escalate into civil war. "We shall cut off the awful hand that attacked our fighters," one of the masked men said. When Palestinian police arrived, the militants ran off, some shooting in the air.
Previous Posts:
Countdown to Palestinian Civil War
Palestinian Infighting Escalates