Azerbaijanis are hoping their turn for democracy is next!
10,000 demonstrate against Government in Baku today!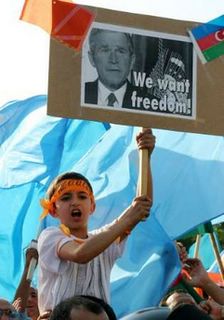 The Opposition is holding another rally in the capital of Baku, today. Meanwhile, British and US Ambassadors turn up the volume for democratic change on talk shows and TV interviews.
Protesters are out on the streets again today in Baku demanding democratic changes in their country:
The Azerbaijani People's Front Party, the Musavat party and the Democrats Party, united into a single opposition bloc called "Svoboda" are staging a sanctioned rally in Baku on Sunday.
Advertisement - story continues below
The rally has several thousand participants, members of other political parties and youth organizations are also taking part in it, an Interfax correspondent reported.

US Ambassador to Azerbaijan, Rino Harnish (on right in first photo), and Bristish Ambassaador, Laurie Bristow (right) are putting pressure on the Azerbaijan Government to hold fair and free elections.
TRENDING: Unhinged Quebec Woman Pascale Ferrier Identified as Suspect in Case of Ricin Letter Sent to Trump White House
Strong words from the US Ambassador to Azerbaijan on a recent TV show in Azerbaijan:
Rino Harnish, US Ambassador to Azerbaijan was a guest to a daily talk show on ANS TV. Speaking to the "View-point" program Ambassador spoke about US' role and position on coming parliamentary election scheduled for November 6th. Questioned about "exit-polls" which will be first time used in Azerbaijan, Rino Harnish said it was a big step towards ensuring having democratic elections.
Advertisement - story continues below
It is our next effort to assist the people of Azerbaijan to conduct democratic elections here. President George Bush has said in his inauguration speech that United States of America would take active role in spreading a democracy in foreign countries, Harnish said.
The British Ambassador is also putting pressure on the Azeri's for free elections in November:
According to British diplomat, there is not an only model for holding parliamentary elections in the world. «The most important is the observation of the elections law which envisages exact procedures for the development and organization of parliamentary elections in Azerbaijan,» Bristow underlined. However, the final decision is still to be taken by the electors, added.
Update: (1:00 PM) Instapundit sees it as a "democracy process".
Previous Posts on Azerbaijan Demonstrations:
Azerbaijan Protesters Clash with Police
Azerbaijan Demands Freedom!
Advertisement - story continues below
Robert Mayer from Publius Pundit has more on the rally today.