PETA Charged with Animal Cruelty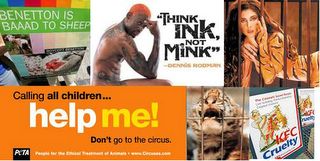 Animal rights group is in the doghouse.
After staking out garbage bins, authorities in North Carolina arrested two PETA members for dumping dead dogs and cats. Veterinarians thought the animals were going to be adopted:
Two members of the anti-animal cruelty group, PETA, have been arrested in North Carolina . Police said the two were dumping dead dogs and cats into a shopping center dumpster. Police followed the suspects as they went to an animal shelter. Investigators said the animals they picked up were reported living.
Police said they found 18 dead animals in the bin and 13 more in a van registered to the activist group, all from shelters in the state's northeastern corner.
Investigators arrested the two workers after staking out a garbage bin where animals had previously been dumped, police said Thursday.
PETA President Ingrid Newkirk said the workers were picking up animals to be brought to PETA headquarters for euthanization. Veterinarians and animal control officers said the PETA workers had promised to find homes for the animals rather than euthanize them, according to police.
Hat Tip "Mule Lover" Chris W.