Protest Against Jewish Withdrawal Plan in NYC
Ariel Sharon was greeted by protesters on his arrival in New York City. A crowd met him as he attended Baruch College in New York City to give a speech to local Jewish leaders. The Israeli Prime Minister kicked off a three-day visit to the United States, yesterday.
VIDEO OF THE NEW YORK PROTESTERS HERE
(the protest is shown at around 4 minutes into the clip… Laura Bush is also discussed earlier in the clip)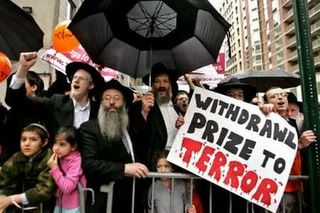 New York City Jews protest Ariel Sharon's plan to withdraw from Gaza saying it rewards terrorism.
Ariel Sharon was heckled by protesters at his stop in New York City, yesterday:
Visiting Israeli Prime Minister Ariel Sharon was heckled during a speech to Jewish leaders on Sunday, and about 1,500 demonstrators staged a noisy street protest against the Gaza disengagement plan he was defending.
Several protesters stood up during Sharon's speech, one shouting "Jews don't expel Jews." The prime minister had to pause when the interruption grew louder and the protesters were escorted out of the Baruch College auditorium in Manhattan. He then received a warm ovation from the crowd.
Under Sharon's plan, Israel will remove all 21 Jewish settlements in Gaza and withdraw from four small settlements in the West Bank beginning in mid-August.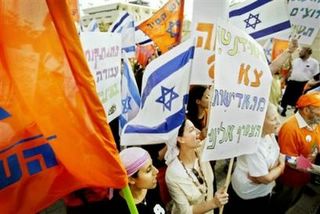 Protesters back in Israel are not happy about the withdrawal plan, either.
Aljazeera also reported on the event and the withdraw plan:
Under Sharon's plan, Israel is to remove all 21 Jewish settlements in Gaza and withdraw from four small settlements in the West Bank.
The plan has divided the Israeli public, with Sharon's opponents accusing him of caving in to Palestinian violence and warning the moves will lead to further territorial concessions.
In his speech, Sharon said the withdrawal would preserve Israel's character as a Jewish democracy and reiterated his stance that the plan will make Israel stronger.
"This plan will improve our security and offer a chance to start a political process with the Palestinians," he said. "It will guarantee a Jewish majority in the state of Israel."
Sharon also said he intends to retain control of large settlement blocs in other parts of the West Bank, ruling out a full return of territory captured and occupied in the 1967 Middle East War and demanded back by the Palestinians.
He said there will be no entry of Palestinian refugees into Israel, rejecting another key Palestinian demand.
"I said in the past, and I say it also today: I am willing to make painful compromises for peace," Sharon said. "I think that the entire world can now see how hard such compromises are.
There is one thing on which we will not make any compromises – not now and not in the future, and that is our security."
Several of the protesters wore orange T-shirts, the colour adopted by Gaza settlers who opposed his plan to remove them from their homes later this summer…
…Palestinian Leader Abbas was scheduled to arrive in Washington on Tuesday and meet with President George Bush on Thursday. He has said he would seek political and financial support from the US.