This has not happened in 46 Years!
VIDEO OF THE RALLY HERE
Meeting in a Fruit Orchard…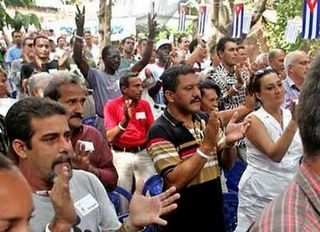 Outside of Havana, Cuban dissidents rally this weekend.
Shouting and singing the national anthemn...
With shouts of "Freedom" and the singing of the Cuban national anthem, more than 200 people on Friday opened a rare opposition assembly in communist Cuba, uninterrupted by authorities despite the expulsion of European lawmakers, journalists and others who planned to attend.
Martha Beatriz Roque, the meeting's lead organizer and a former political prisoner who attempted a similar gathering nine years ago, called it "a point of departure" for future work.
"There will be a before and after for May 20 in Cuba," Roque said, claiming it was the first such gathering in Fidel Castro's 46 years of communist rule. "This is a triumph for all the opposition."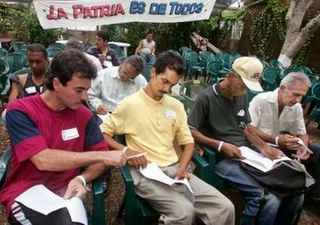 Opposition members voted in Havana today on a steering commitee to lead the "Assembly to Promote Civil Society" in Cuba.
The rally continued even though key foreign journalists were expelled from Cuba before the event…
The Committee to Protect Journalists condemns the detention and expulsion of several foreign journalists who traveled to Cuba to cover an unprecedented gathering today of opposition activists and international observers.
Italian journalist Francesco Battistini, who arrived in Cuba last night on assignment for the Milan-based daily Corriere della Sera, was detained this morning, the newspaper reported. Corriere della Sera said it did not have further details, but it expected Battistini would be expelled.
Polish journalist Jerzy Jurecki, an editor with the regional weekly Tygodnik Podhalanski, was detained at his hotel in Havana last night and taken to an immigration detention center near Havana's airport, according to international news reports. Polish journalist Seweryn Blumsztajn, who works for the national daily Gazeta Wyborcza, was detained with Jurecki, press reports said. A third journalist, whose name has not been disclosed but who reportedly works for the Polish edition of Newsweek magazine, was also in police custody. The three journalists, together with three other Polish citizens, are at a Cuban airport awaiting expulsion.
Update: (5:00 PM) Instapundit has linked to this. He had a posting yesterday of this historic rally. Babula the Cuban expert has more at his blog.
A. M. Mora y Leon, the expert at Publius Pundit in Latin American affairs, says to "Come Join the Party!"
Here is a letter translated at Babalu to President Bush from the Opposition.
Also,… Carnal Reason has more on this event and other great posts from south of the border.