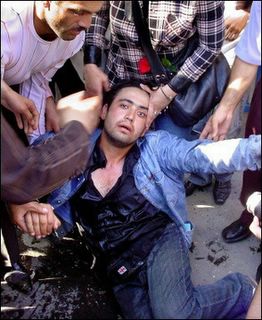 A dazed protester is assisted by friends after being attacked at a rally in Azerbaijan.
Protesters and government forces collided yesterday at a rally for free elections:
Advertisement - story continues below
Azerbaijani protesters demanding free elections were beaten back Saturday by police, who arrested dozens as they broke up a banned rally in the oil-rich former Soviet republic on the Caspian Sea four days before the inauguration of a new pipeline, The Associated Press reported.
Tension between the government and the opposition in the tightly controlled country has increased since an October 2003 election in which Ilham Aliev replaced his late father, Geidar Aliev, as president in a vote the opposition said was marred by fraud. A parliamentary vote is scheduled for November.
Officials had forbidden the opposition to protest, citing security concerns four days ahead of the visit of foreign leaders who will attend a ceremony marking the opening of Azerbaijan's portion of the U.S.-backed Baku-Tbilisi-Ceyhan oil pipeline.
TRENDING: BARR: "No Basis" For FBI's Crossfire Hurricane Investigation... More Concerning is a 'Whole Pattern of Events to Sabotage the Presidency' (VIDEO)
The violence broke out as groups of protesters tried to defy the ban and make their way to a central square in the capital, Baku, shouting "Freedom!" and "Free elections!"
Helmeted police with riot shields chased protesters and lashed out at them with truncheons, dispersing the rally after about two hours. Police detained dozens of people, putting them into buses and vans.
Advertisement - story continues below
Human rights activist Saida Godzhamanly said more than 100 people were detained, including 10 women. Ali Kerimli, head of the People's Front of Azerbaijan party, said about 300 people were taken off. The police said 45 people were detained for disorder and refusing to obey police.
A journalist from an independent newspaper who was bloodied by blows _ despite wearing clothing marked "press" _ and a passer-by who was knocked unconscious by a truncheon blow were taken to the People's Front headquarters. The journalist was later taken away in an ambulance.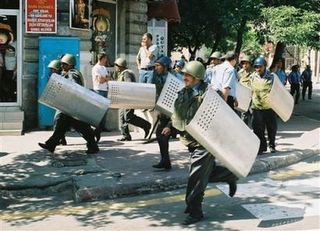 Police chasing protesters through the streets of Baku, Azerbaijan.
Other reports say that 45 were arrested during the demonstration:
Some 45 protestors were arrested here on Saturday as police dispersed an opposition demonstration by 500 people who defied a protest ban to rally for free elections in Azerbaijan, police said.
Advertisement - story continues below
Leader of the opposition Popular Front of Azerbaijan, Ali Kerimli, claimed that 300 people had been arrested and that his assistants had been beaten by police.
However, police said, in a statement quoted by Russian news agency Itar Tass, that 45 people had been arrested.
Robert Mayer from Publius Pundit wrote about the situation in Azerbaijan earlier in the week.
Tim Russo explains that this is a looming democracy test for Bush.
Advertisement - story continues below
Update: Instapundit is following this story now at his site.