Rumsfeld in Afghanistan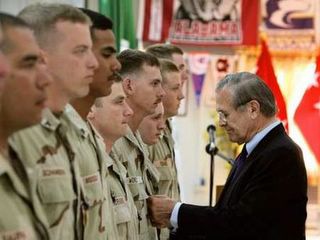 Defense Secretary Donald Rumsfeld took time during his whirlwind tour of Iraq and Afghanistan this week to attend a Purple Heart and Bronze Star Ceremony in Baghdad.
Rumsfeld is due in Islamabad, Pakistan later today.
And… I just saw on The Registan that Rumsfeld is expected to make a stop in Bishkek, Kyrgyzstan this week!