Black Smoke Rising in Togo
Violence broke out in the Capital of Lome as the dictator's son was just announced the winner of the Togo presidential election with 60% of the vote. The BBC reports:
The candidate of Togo's ruling RPT party and son of the former dictator of 38 years has provisionally won Sunday's presidential election, an election official says. Faure Gnassingbe got 60% of the vote, said the election commission head.
The main opposition leader, Gilchrist Olympio, who as barred from standing, said his party would not serve as a minority partner in any unity government.
He said there had been "massive fraud" in the poll.
The candidate of Mr Olympio's Union of Forces for Change, Emmanuel Bob-Akitani received 38% of votes cast, said electoral commission chairwoman Kissem Tchangai Walla.
"In view of these results… the candidate of the RPT has been provisionally elected," she said
Yesterday it was reported that the two parties had reached an agreement in Nigerian talks to work together but now Mr. Olympio is taking a different position. This is not good news for the people of Togo.
*The Capital Erupts*
Youths hurled rocks and set up blazing barricades in Togo's capital Tuesday after Faure Gnassingbe, son of the late authoritarian leader, was declared the winner of a presidential vote his rivals say was fixed.
Plumes of black smoke rose into the sky over the coastal city as riot police armed with stun grenades and rubber bullets fired tear gas and played cat-and-mouse with groups of furious opposition supporters, surging forward to throw stones.
*The Opposition Leaders are Encouraging Resistance*
"We call on the people to resist. This regime must understand that we will never accept Mr. Faure Gnassingbe as president of the republic because neither his father, nor him, could win a normal election in Togo," Jean-Pierre Fabre, of the main Union of Forces for Change opposition party, told Reuters.
All sides in the poll have accused their rivals of fraud and intimidation during an election which has been marred by weeks of street fighting between rival activists and security forces.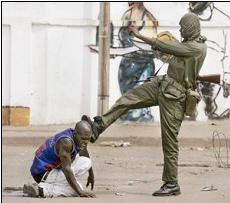 A Soldier Kicks a Suspected Looter in the Head
More news of Violence is Being Reported…
Gunshots can be heard frequently in the capital soon after the announcement, as people set tyres as barricades everywhere in Lome,with black smoke from the burning tyres permeating the whole city.
People hid away and the capital regained relative calmness later as trucks loaded with soldiers and machine guns patrolled inthe street, but gunshots can still be heard sporadically.
The two parties have a long history. Mr. Olympio's father was president of Togo until Faure Gnassingbe's father and the dictator for 38 years took over Togo after the death of President Olympio.
Looting and Vandalism is Also Being Reported…
Shops and businesses were looted, walls smashed and trees hacked down, crushing phone booths. A Chinese diplomat said his embassy had been attacked by youths who broke windows, the gate and a car before stealing a motorbike.
Sporadic gunfire rang out. A Reuters reporter saw three men being beaten by police officers and taken away as women at the scene wept.
The situation continues to be very tense in the impoverished country.
At least 6 opposition protesters were killed before the election and three more deaths were reported on election day. For more news on Togo check here, here, or here.