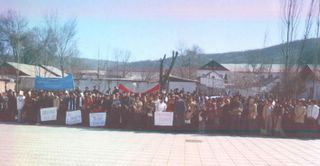 Kyrgyzstan Protesters Pause for a Picture
The second largest city of Osh is ready to declare a state of emergency:
The mayor's office of Osh, Kyrgyzstan's second-largest city, is ready to introduce a state of emergency due to an unsanctioned protest organized by the opposition on the city's central square, Osh Mayor Satyvaldy Chyrmashev told a press conference on Wednesday.
Advertisement - story continues below
"The city's authorities are ready to do everything necessary to preserve calm among Osh's 500,000 citizens," Chyrmashev said.
Damira, an Organizer of "KelKel", the youth protest group of Bishtek students explains the hopes of the organization:
TRENDING: OUCH! Marjorie Taylor Greene SHAMES Former Twitter Censorship Boss For Banning Her Campaign Account But Allowing Child Porn... And Once Wrote Minor Boys Should Be Allowed on "gay, adult male hookup site" [VIDEO]
Many times I have heard from different people that we should be thankful that Akaev is not Karimov or Turkmenbashi. But why should we compare our situation with these totalitarian regimes? Why don't we compare our democracy with other European democracies, or at least with Eastern European countries that were members of the USSR as well? Do you think that the Central Asia people don't deserve true democracy? I think we deserve it because we deserve better lives. [Generally speaking,] were true democracy established in our countries, the people would be enabled to remove governors who do not work well. A president is a worker and the people are his/her employers. Therefore, the people possess the right to fire the president if they don't like him/her.